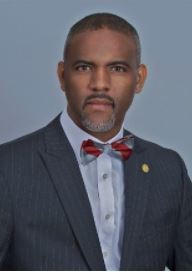 Austin A. Lane, Ed.D.
Austin A. Lane, Ed.D.
President , Texas Southern University
Dr. Austin A. Lane is the 12th president of Texas Southern University (TSU). Dr. Lane assumed leadership of Texas Southern on June 6, 2016. He is committed to focusing on student recruitment and maintaining strong enrollment and retention policies at TSU.
Dr. Lane's academic passion includes student academic productivity and growth, and he is dedicated to producing TSU graduates who will be prepared for the global marketplace. His major priority includes keeping TSU strong and independent, and maintaining its stature as a premier HBCU.
A native of New Jersey, Dr. Lane graduated from Hackensack High School and attended Odessa Junior College in West Texas on a basketball scholarship. He holds a B.A. in psychology from Langston University (the only HBCU in Oklahoma), M.A. in human relations from The University of Oklahoma, and Ed.D. in higher education administration from The University of Alabama.
Dr. Lane was appointed Executive Vice Chancellor of Lone Star College in January 2015. He was the lead administrator for Academic Affairs, Student Services, Workforce Education, Corporate College, Honors College, International Programs, Strategic Planning and Assessment, and University Centers in The Woodlands and University Park, among a host of responsibilities. He served as the third president of Lone Star College-Montgomery for six years, leading an institution that experienced the fastest growth in Texas and the nation.
Dr. Lane has been lauded as an innovator and visionary leader, and his career in higher education is marked by a variety of successive leadership roles and professional achievements. Before joining Lone Star College-Montgomery, Dr. Lane served as vice president for student affairs at Tyler Junior College and was responsible for directing a college-wide strategic enrollment management team that posted the largest enrollment in the school's history. He developed strategies to enhance the academic and student service reputation of the college. Prior to joining Tyler, he served as the dean of students at The University of Texas at Arlington and was instrumental in planning and overseeing several student success initiatives that were designed to increase enrollment and retention.
Dr. Lane was an adjunct professor in the higher education program at Sam Houston State University and served on the Masters in Higher Education advisory board for the College of Education at SHSU and doctoral advisory board for Southern Methodist University's College of Education. He was as an adjunct professor in the College of Education at The University of Texas at Arlington, in the Behavioral and Social Sciences department at Tarrant County College-Southeast Campus and in the higher education program at Sam Houston State University. He served as an on-site reviewer for the Southern Association of Colleges and Schools (SACS). He has conducted extensive research on traditional-age, low-income, African-American and Hispanic students in Texas that focuses on access to higher education, affordability, need-based vs. merit-based aid, college persistence, and student success.
His community work includes serving on the Amegy Bank Advisory Board, Montgomery County Women's Center Board of Directors, Rotary Club of The Woodlands and the Texas Diversity Council Board of Directors. He has previously served on the Montgomery County United Way Board as Campaign Chair 2011-12, The Woodlands Area Chamber of Commerce, Greater Conroe/Lake Conroe Area Chamber of Commerce, Greater Conroe Economic Development Council, and Education for Tomorrow Alliance Board of Directors. He has been recognized as recipient of the 2015 Drum Major Award, 2014 Interfaith of The Woodlands Hometown Hero Honoree, and 2012 Pacesetter of the Year for the National Council for Marketing and Public Relations.
Dr. Lane and his wife, Loren, have three children, ages 19, 15 and 9. His father- and late mother-in-law both attended Texas Southern. Texas Southern University (TSU) is a comprehensive, metropolitan institution providing academic and research programs that address critical urban issues, and prepares its increasingly diverse student population to become a force for positive change in a global society. TSU offers more than 100 undergraduate and graduate programs and concentrations • bachelor's, master's, doctoral and professional degrees • organized into 10 colleges and schools on a 150-acre campus nestled in the heart of Houston's historic Third Ward. The University's enrollment has a population of 8,000 undergraduate and graduate-school academic candidates. Texas Southern has been a distinguished educational pioneer since 1927, and the University has become one of the most diverse and respected institutions in Texas. TSU has positioned itself as a proactive leader in educating underserved students and many who are the first in their family to attend college.