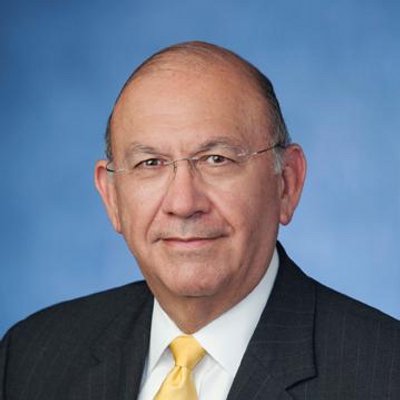 Cesar Maldonado
Cesar Maldonado
Chancellor, Houston Community College
In May of 2014, Dr. Maldonado joined Houston Community College as Chancellor of the six-college system. Under his tenure, HCC has restructured to focus on student success resulting in an increase of graduates by more than 12 percent per year. Campuses have been consolidated into 13 new Centers of Excellence, and, as part of a $425 million Capital Improvement Program, 14 new projects are underway. HCC has been nationally recognized as the #1 college for international students, #1 for granting associate degrees to minorities, #2 for granting degrees to Hispanic students, #2 for granting degrees to African Americans, #5 for granting degrees to Asian Americans, and #4 among all two-year institutions in granting associate degrees in all disciplines.
Maldonado began his career in 1976 as a process engineer for Celanese Chemical Corporation, where he designed the company's first digital control system used for real-time process optimization. In 1980, he accepted a position as Vice President of Information Systems with Tex-Steel Corporation, where he became President and Chief Executive Officer within 10 years. Through acquisitions, organic growth, and the addition of software development divisions, he led the company to international prominence. He ultimately led Tex-Steel through a successful acquisition into a larger publicly held enterprise. Maldonado then joined ASSA ABLOY as Division Vice President and Chief Technical Officer, and led joint venture technical groups in the development of new business lines and in the support of custom engineered products. Subsequently, Maldonado became an executive in two successful engineering firms and, in 2008, was named President of Texas State Technical College in Harlingen, Texas. In 2011, Maldonado was named Vice Chancellor for Institutional Effectiveness and Commercialization for the TSTC System, while remaining President at TSTC Harlingen.
In addition to his demonstrated business acumen, Dr. Maldonado has led legislative efforts to create high school/college dual enrollment opportunities in Texas and served for over a decade as a board member (twice as president) of the Harlingen Consolidated Independent School District (TX). He served as the interim Chairman of the Border Governors Conference on Science and Technology, where he worked to foster bi-national research and technology exchange with scientists across the U.S. and Mexico border. He was also appointed by the governor to serve as a Regent of the Texas State Technical College System.
In 2014, he was elected to the Board of Directors of the non-profit Houston Technology Center, the largest technology incubator and accelerator in Texas, and to the Texas Tech University Industrial Engineer Academy. His business experience encompasses strategic planning, project management, infrastructure design, industrial systems and software design. Maldonado holds Bachelor and Masters of Science degrees in Chemical Engineering from Texas A&M University, a Doctorate in Systems and Engineering Management from Texas Tech University, and is an alumnus of the UC Berkeley Haas School of Business. He was recently elected as a director of the Quality Texas Foundation.
Cesar and his wife of 41 years, Liz, enjoy their children, Kristin and Alan Gomez, Marcus, Laura and Jason Rocha, and grandchildren, Julianne and William.