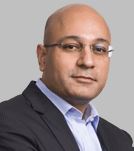 Manu Asthana
Manu Asthana
President, Direct Energy Home , Direct Energy
As President of Direct Energy Home, Manu is responsible for leading the largest residential energy and home services businesses in North America, and for bringing innovative new offers to market for the benefit of over four million customers. Manu is a member of the Direct Energy Management Team, the Centrica Senior Leadership team and is proud to serve as the executive sponsor in North America of Spectrum, Centrica's LGBTQ+ employee resource group.
Manu has previously served as the President of Direct Energy Residential, Head of Direct Energy Upstream & Senior Vice President responsible for the continued formation and growth of the Direct Energy Midstream and Trading line of business, where he had responsibility for operations at Direct Energy's power generation units, procurement of energy, capacity and ancillary services for Direct Energy's retail businesses and continued growth of Direct Energy's Midstream & Trading line of business. Before joining Direct Energy, Manu held several senior leadership positions with the TXU group of companies, including serving as the head of portfolio management and trading and as Chief Risk Officer for TXU Corporation.
Manu currently serves on the Board of Directors of Child Advocates, an organization that recruits, trains and supports volunteers who provide a voice for children in foster care.
Manu holds a bachelor's degree in economics with concentrations in finance and entrepreneurial management from the Wharton School at the University of Pennsylvania, where he was both a Joseph Wharton Scholar and a Benjamin Franklin Scholar. Manu and his wife, Aparna, live in Houston, Texas with their two children.