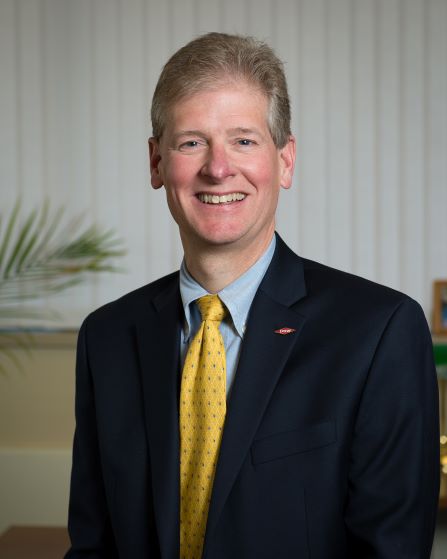 Rich A. Wells
Rich A. Wells
VP of U.S. Gulf Coast Operations and Site Director of Texas Operations , The Dow Chemical Company, Freeport
Over the course of his 39-year career with The Dow Chemical Company, Rich Wells has held leadership roles in a wide range of areas, including Advanced Manufacturing and Engineering (M&E), Business Leadership, EH&S (Environment, Health and Safety), Energy and Climate Change, and Public Policy.
Wells, a member of the Dow Operations Leadership Team, was named Vice President of U.S. Gulf Coast Operations and Site Director of Texas Operations in 2017. He is responsible for 10 advanced manufacturing sites, the Texas Innovation Center (a state-of-the-art R&D campus) and the Houston Dow Center (a strategic engineering and business hub).
As the Site Director for Dow Texas Operations, he leads one of the largest integrated petrochemical manufacturing sites in the world. The site employs more than 8,000 people, producing products that are used in industrial and consumer applications including food packaging, health care, automobiles, construction and electronics. He is also President and CEO of Union Carbide Corporation (UCC) and he sits on the UCC Board of Directors.
Wells graduated with highest honors from the South Dakota School of Mines and Technology in 1982 with a Bachelor of Science degree in Chemical Engineering and was named an outstanding recent graduate of his alma mater in 1992.  In 2014, he was honored as a Distinguished Alumni from SDSM&T. He currently serves as a member of the school's Academic Advisory Board. Wells has also completed an executive leadership program at Babson University and the H.H. Dow Academy.
A native of Minnesota, Wells resides in Lake Jackson, Texas with his wife Trudy. They have two sons, Zachery, a Lieutenant in the U.S. Army, and Andrew, a mechanical engineering student at Michigan Tech. He is an avid runner having completed multiple marathons, and also enjoys reading and keeping abreast of current political events.