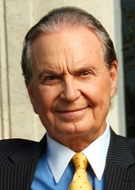 Welcome W. Wilson, Sr.
Welcome W. Wilson, Sr.
Chairman , Welcome Group LLC
Welcome W. Wilson, Sr., is Chairman of Board of Regents of the University of Houston System.
He is chairman of GSL Welcome Group, LLC. a group of companies that own and lease single-tenant industrial facilities in Texas. GSL Welcome is active in the construction of build-to-suit and design/build projects. Mr. Wilson is also chairman of the board of River Oaks Financial Group, Inc, a mortgage banker.
Since 1958, he has been a real estate developer of subdivisions, apartment complexes, shopping centers, industrial facilities and office buildings. During the 1960s and 1970s, he was chairman of the board of three Texas banks.
He served in the Eisenhower and Kennedy administrations as a five-state Director of Civil and Defense Mobilization, which included responsibility for what is now known as FEMA. In 1966 he was appointed Special Ambassador to Nicaragua by President Lynden Johnson. He was a witness to the Atom Bomb tests in Nevada in 1954 and the Hydrogen Bomb test at Bikini Atoll in the pacific in 1956. In 1958 he was selected as one of Ten Outstanding Young Men in Federal Service.
He received a BBA degree from the University of Houston in 1949, where he received its UH Distinguished Alumnus Award in 1970 and the C.T. Bauer College of Business Distinguished Alumnus Award in 1996. He received an AA degree from Texas Southmost College in 1946, and received its Distinguished Alumnus Award in 2005.