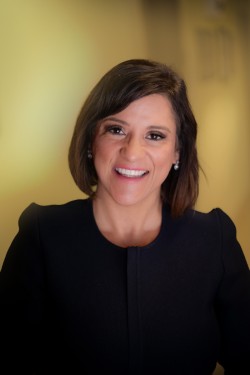 Claudia Aguirre
Claudia Aguirre
President and CEO, BakerRipley
As President and CEO of BakerRipley, Claudia Aguirre leads one of the largest, nationally recognized nonprofits in the country that has transformed neighborhoods across Houston for more than 113 years. 
Claudia's passion for advancing equity and promoting sustainable solutions has played a pivotal role in the vision and impact of BakerRipley. With an operating budget of $500 million, she leads a diverse team of 1,400 employees across 70 locations, serving six-hundred thousand neighbors each year.
Claudia has 27 years of leadership experience directing large-scale community engagement initiatives while working in government, education, and nonprofits. Before joining BakerRipley, Claudia served under two City of Houston Mayors and led several prominent Houston organizations.
Claudia is renowned for her expertise in child development, community development, and addressing inequities in our region. She has spoken as a subject matter expert at numerous conferences. She has also been featured in the Center for American Progress, the New York Times, the Wall Street Journal, Urban Institute, and the Houston Chronicle.
She holds a Master of Education degree and a Bachelor of Arts degree in Political Science. She also has several certifications as a Teacher, Principal, and Superintendent, including an Education Executive Certification from Harvard University.
She is currently a Class C Director for the Federal Reserve Bank of Dallas and a member of the Board of the Greater Houston Partnership.