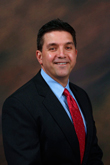 David Milich
David Milich
CEO – Central Region, UnitedHealthcare
Dave Milich serves as chief executive officer of UnitedHealthcare's (UHC) Employer & Individual operations in Texas. Based in Houston since 2011 when he became UHC's South Texas health plan CEO, Dave works extensively with customers, consultants, brokers, physicians, hospitals, regulators, legislators and community leaders to address issues related to health care accessibility and affordability.
Prior to his most current roles as health plan CEO, Dave provided strategic oversight of business development and customer retention for commercial markets as regional vice president of sales and account management for the 15 states and 16 health plans in UHC's central region. His more than 20 years of industry experience include various sales and account management leadership roles with UHC and Metropolitan Life Insurance Company in Kansas City and St. Louis.
Outside of work, Dave is involved in the Houston community. He currently serves on boards of directors for the Greater Houston Partnership; American Cancer Society's CEOs Against Cancer; American Diabetes Association of Houston; and SpringSpirit, an organization providing safe pathways for youth to realize life opportunities through sports, education and mentoring programs.
A St. Louis native, Dave earned his Bachelor of Science in business administration with emphasis in finance and banking from the University of Missouri in Columbia, Mo. He and his wife, Teresa, have two sons.