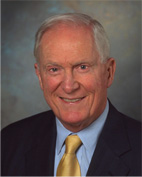 E. William Barnett
E. William Barnett
Director Emeritus , Baker Botts LLP
Mr. Barnett chaired the Board of Directors of the Partnership in 1992 and presently serves as one of distinguished Directors Emeritus.
E. William Barnett is a retired managing partner of Baker Botts L.L.P. He is a former chairman of the Antitrust Section of the American Bar Association and a fellow of the American College of Trial Lawyers.
First established in 1840, Baker Botts has more than 750 attorneys practicing law worldwide.
He is chairman of the Baker Institute Advisory Board at Rice University and former chairman of the Rice University Board of Trustees. He is a life trustee of The University of Texas Law School Foundation. Barnett is the former chairman of the Houston Zoo and currently serves as director emeritus. He is a director of St. Luke's Episcopal Hospital and serves on the board of RRI Energy, Inc., Enterprise Products GP LLC and Westlake Chemical Corporation.
Mr. Barnett received his bachelor's degree from Rice University and his law degree from The University of Texas School of Law.