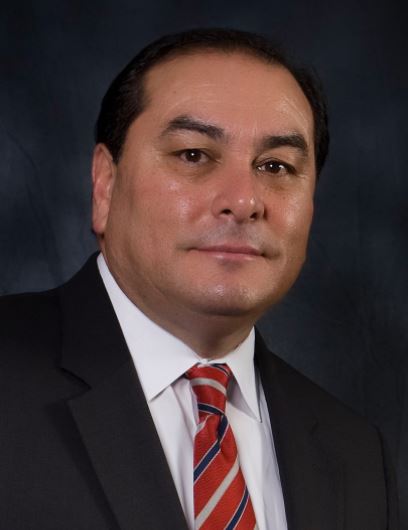 Massey Villarreal
Massey Villarreal
President and CEO, Precision Task Group Inc.
Massey Villarreal is CEO and President of Precision Task Group, Inc., (PTG). PTG is a Hispanic-owned and managed computer-consulting firm providing data processing solutions to public and private sector firms. Hispanic Business Magazine named Massey Villarreal as one of the one hundred most influential Hispanics in the United States. Mr. Villarreal was the first person to ever serve as chairman of a local, state, and national Hispanic chamber when he served as chairman of the Houston Hispanic Chamber of Commerce, the Texas Association of Mexican American Chambers of Commerce (TAMACC) based in Austin Texas, and the United States Hispanic Chamber of Commerce (USHCC) headquartered in Washington, D.C. While serving an additional 3-year term on the Board of Directors of the USHCC, Massey was elected Chairman of the USHCC Foundation.
Mr. Villarreal serves on the Board of the Greater Houston Partnership and is Vice Chair of the Economic Development Committee as well as the Immigration Task Force. Other boards that he has served on include the Bio Houston, Houston Technology Center, Houston Community College Foundation board, Houston Final Four Committee, American Red Cross of Houston, Memorial Hermann Hospital System Board, JP Morgan Chase Bank, and Houston Super Bowl XXXVIII.
On January 10th, 2011, Texas Governor Rick Perry re-appointed Massey to the Texas Economic Development Corporation. Massey served for one year in a vacated position on the Texas Public Finance Authority until December 2009. The authority issues and sells bonds for designated state agencies in order to finance the acquisition or construction of buildings. Prior to this recent appointment, Governor Perry appointed Mr. Villarreal as presiding officer (Chairman) of the governing board of the Texas Department of Economic Development (TxEd). Mr. Villarreal led a successful transition of the agency to the Governor's office, effective September 1, 2003. On September 23, 2003, Governor Rick Perry announced a new $5 million marketing campaign - Texas One - to continue the state's recent string of successful job creation efforts led by Mr. Villarreal. It will assist public and private efforts to promote the state's excellent business climate, skilled workforce, strong education system and convenient access to emerging markets. In July 7 2007, Massey was appointed by Houston Mayor Bill White to serve on the Gulf Coast Economic Workforce Development Board. In September 2001, Mr. Villarreal completed a six-year appointment by former George W. Bush to the Board of Regents of the Texas State University System, which is composed of nine university components throughout Texas. Student enrollment for the system exceeds 56,000 and an annual operating budget of half a billion dollars. In addition to his business interest, Mr. Villarreal was elected and re-elected Chairman of the Board for the Republican National Hispanic Assembly (RNHA), which is based in Washington, D.C. The RNHA represents the interest of over seven millions Hispanic Republicans in the United States. Massey served on the National Steering Committee for the Viva Bush Campaign during the President's re-election. Massey is Chairman of the Hispanic Alliance for Prosperity Institute based in Washington, D.C. whose mission is to promote policy and legislation to advance traditional Hispanic values, full economic participation, prosperity, and entrepreneurship.
Mr. Villarreal is a native of Corpus Christi, Texas and resides in Sugar Land, Texas. Mr. Villarreal holds a Bachelor of Science degree in Computer Science from Texas A&M -Corpus Christi, formerly Corpus Christi State University.