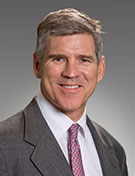 Paul W. Hobby
Paul W. Hobby
Founding Partner , Genesis Park LP
Mr. Hobby is a Managing Partner of Genesis Park LP, a Houston-based private equity business specializing in growth and public company carveouts.
Genesis Park often provides management and board governance services to its portfolio companies. In that role, Mr. Hobby served as CEO of Texas Monthly from 2016 to 2018, as CEO of Alpheus Communications, a Texas fiber optic network and data center provider, from 2004 to 2011, and as Chairman of CapRock Services, Inc., the largest provider of satellite services globally from 2002 to 2006.
Mr. Hobby has served as a director of NRG Energy, Inc., a leading integrated power company, since March 2006, and has recently led a board and management overhaul at FloTek. He previously served as a director of Stewart Title, Coastal Banc, Amegy Bank, and several other public companies. Mr. Hobby is former Chairman of the Houston Branch of the Federal Reserve Bank of Dallas, the Greater Houston Partnership, the Texas Business Hall of Fame, the Texas General Services Commission and the Texas Ethics Commission..
Mr. Hobby earned his B.A. from the University of Virginia and his J.D. from the University of Texas Law School. Early in his career he served as Assistant U.S. Attorney for the Southern District of Texas, Chief of Staff to the Lieutenant Governor of Texas, and an Associate at Fulbright & Jaworski. He is often sought out as a public speaker and resource on regional, policy and corporate strategy topics.