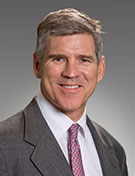 Paul W. Hobby
Paul W. Hobby
Founding Partner , Genesis Park LP
Mr. Hobby, a native Houstonian, is the Managing Partner of Genesis Park, L.P.
Since its founding in late 1999, Genesis Park has executed a number of successful communications and energy technology transactions, including Alpheus Communications, CapRock Services, FuelQuest, Red Arrow Energy, Avalon Partners, Commercial American Insurance Company, Vivante GMP Solutions, SAT Corporation, Western General Holdings and Intermat.
Prior to Genesis Park, Mr. Hobby conceived a technology strategy for integrating media operations through improved information technology. That company, Columbine JDS Systems, Inc., became the largest provider of media software and services in the world.
Mr. Hobby has served on the board of a number of leading public and private companies including: NRG, Eagle Global Logistics, Inc., Stewart Title, Coastal Banc, Amegy Bank of Texas, Aronex Pharmaceuticals, BASE Entertainment, Texas Genco and CapRock Communications.
Mr. Hobby is a graduate of the University of Virginia and the University of Texas School of Law, where he has served as an adjunct faculty member and been honored as an Outstanding Young Alumnus, and has been a guest lecturer at the Stanford University Graduate School of Business.
He is currently the Chairman of the Houston Branch of the Federal Reserve Bank of Dallas, and has been Chairman of the Texas General Services Commission, The Texas Business Hall of Fame, and held a number of other community leadership positions over time.