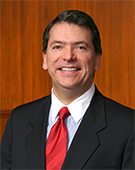 Roland Garcia
Roland Garcia
Shareholder, Greenberg Traurig, LLP
Roland Garcia is a founding Shareholder and Management Group Member of the Houston office of Greenberg Traurig, LLP, an international law firm with over 2200 attorneys in 41 locations around the world. He received his BBA from Baylor University with Honors in 1981 and his JD from South Texas College of Law in 1986 as Assistant Editor of the Law Review. He is a graduate of the United States Marine Corp., OCS/PLC Officer Training Program.
He served as a Briefing Attorney for the Texas Supreme Court. He is licensed to practice law in the State of Texas, in the Southern, Northern, Eastern, and Western Districts of Texas, in the Fifth Circuit Court of Appeals, and in the United States Supreme Court. He is a civil trial and appellate lawyer. He has tried lawsuits in state and federal trial courts, and has argued appeals in state and federal appellate courts. He has handled many high profile cases and has been quoted regarding these cases by the National Law Journal, Houston Chronicle, Dallas Morning News, Texas Lawyer Magazine and others. He was named a "Super Lawyer" by Texas Monthly Magazine. He was featured by Texas Lawyer Magazine as lead counsel in a Top 20 Verdict in Texas for 2018, and as the No. 2 Contract case verdict for 2018, and his case verdict was selected for inclusion in the Texas Lawyer's Hall of Fame as one of the highest grossing verdicts in Texas from 2014 to 2018.
He was the first minority elected President of the Houston Bar Association. He also served as President of the Texas Young Lawyers Association, the Hispanic Bar Association and the Dispute Resolution Center. He was a Director of the State Bar of Texas, and was a Trustee of the Texas Bar Foundation. He served on the Texas Supreme Court's Judicial Selection Task Force, Gender Fairness Task Force, and Rules Advisory Committee. President Barack Obama appointed him to the prestigious Board of Visitors of the United States Naval Academy, calling him "experienced and committed." He is Co-Chairman of the Mayor's Hispanic Advisory Board.
He also serves on the board of the Memorial Hermann Health System, the Pilot Commission of the Ports of Harris County, and the Harris County Hospital District Foundation. He served as a board member of the Harris County-Houston Sports Authority. He is President of the Houston YET Center, Inc., charged with building and operating two youth education centers in Houston as part of the NFL's legacy gift to the City of Houston for hosting Super Bowl XXXVIII. He is a graduate of Leadership Houston, the American Leadership Forum and the Center for Houston's Future. He is a Past President of the Association for the Advancement of Mexican Americans (AAMA). He was appointed by HISD to its Task Force on Magnet and Vanguard Programs. He was a member of the Community Commission of the Houston Community College System.
Garcia is active in local, state and national politics, serving on numerous finance and steering committees of office holders and candidates. He is a frequent writer and speaker on legal topics such as expert witnesses and discovery and on civic topics such as volunteerism, education and minority opportunities. He received numerous honors including the Hispanic Bar Association's Lifetime Achievement Award, South Texas College of Law Alumni of the Year Award, AAMA Hero Award, NAACP ALEX Award, United Way Project Blueprint Leadership Award, Baylor University Outstanding Young Alumni Award, and the Five Outstanding Young Houstonians Award. Garcia and his wife, Karen, have two children--Scott and Kristin. He enjoys tennis, snow skiing, hunting, politics and scuba diving.