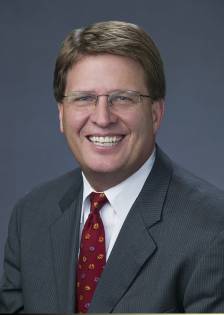 Steve D. Stephens
Steve D. Stephens
A founding employee of Amegy Bank, Steve Stephens became CEO and President of Amegy in March 2014, after serving as President since 2009. Amegy has grown to $14 billion in assets and more than 80 locations since Steve joined the bank in 1990 as executive vice president.
Steve began his banking career in 1980 at Texas Commerce Bank where he joined the lending officer development program. Over the next several years, he worked his way up to becoming executive vice president in commercial lending for Texas Commerce - Reagan.
During his tenure at Amegy, Steve has led the bank's commercial banking, retail, and private banking activities. He has been engaged in all aspects of the bank, which include helping to keep Amegy's commitment to doing an outstanding job for its customers as well as being an advocate for the bank and its employees.
In addition to his leadership role at Amegy, Steve is also an active member of his community, donating time to organizations including the American Leadership Forum, the Boy Scouts of America and Spring Spirit Baseball. Steve is also a member of Boys & Girls Country Board of Directors, the Hobby Center Board of Directors, The University of Houston's Board of Visitors, Houston Methodist President's Council Senior Cabinet, and the Greater Houston Partnership Board of Directors. Additionally, Steve is an active member of Chapelwood United Methodist Church.
Steve attended Texas Christian University and received his Bachelor's of Business Administration in Accounting from the University of Houston.