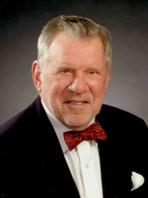 William P. Hobby
William P. Hobby
As a dedicated public servant, philanthropist, and one of the most respected lieutenant governors in Texas history, Bill Hobby has devoted his life to our state and country. His accomplishments are as well-rounded as they are numerous, ranging from successful journalist to progressive policymaker and from parliamentary expert to university chancellor.
Son of former Texas Governor William P. Hobby Sr., Bill Hobby was born in Houston and graduated from Rice University in 1953. After graduation, he served three years in the United States Navy as an intelligence officer. He then joined the staff at The Houston Post and served as President for nearly 21 years.
He began his career in public service in 1959, serving as parliamentarian of the Texas Senate. Before being elected as lieutenant governor in 1972, he headed an extensive review of the state's welfare system. After the Texas Constitution was changed to lengthen the term of office from two to four years, Bill Hobby won re-election in 1974, 1978, 1982, and 1986, serving longer than any lieutenant governor in Texas history. During his tenure in office, he brought tremendous progress to the state in public education, mental health, water conservation, fiscal management, indigent health care, correctional programs, and public assistance programs.
Since his time in public office, Bill Hobby has continued to serve the people of Texas, holding positions and serving in a variety of capacities in many major universities throughout the state. His continued service underscores his determination that Texas must sustain its commitment to excellence in higher education, and his support for the resources that make that possible.